A fresh hue on your wall with Engels Paint Specialists
In our paint shops to choose from a wide range of wall paints. Each type and brand has its unique characteristics. When making a choice, you should not only think about the color. The luster thread, wet abrasion resistance, coverage, the coverage and sustainability are important. You have no idea whether these characteristics are applicable for your wall? Our experts provide answers for appropriate advice.
Special wall paint
Most wall paints have unique properties. One brand covers quickly while the other has a line that is suitable for painting wet areas such as bathrooms. What type of paint is suitable for the surface you are painting? Our specialists will gladly advise you. We have anti-fungal, highly washable, low-solvent and low odour paint. If you are suffering from mould or soot on the walls of your home and are looking for a paint that is easy to keep clean, we have the right brands for you.
Private label
A brand like Sikkens may not mean much to you, or maybe you attach little value to Flexa paint. You just want a wall paint with which to refresh your home. It's a bonus if that paint doesn't cost too much. Our paint shops in Amsterdam have a solution for every budget. For example, we also have our own paint brand, which we can offer at a great price.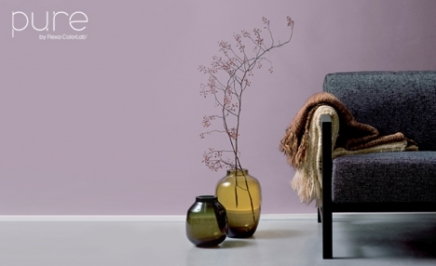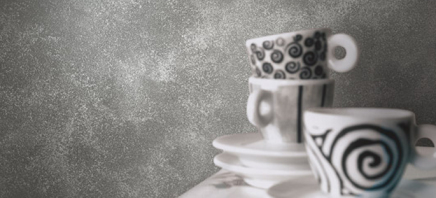 Specialists
Once the undercoat has been applied, it's time to get started with the colour. Engels Paint Specialists has been well known in Amsterdam for 100 years. In our shops you'll find skilled, certified personnel who enthusiastically help customers with paint questions. We use the most modern equipment to mix any colour. We make a so-called hand colour on the basis of a sample. Pure craftsmanship. Whether a primer or a wall paint needs to be mixed, our paint and colour specialists ensure that you start the job with a good feeling.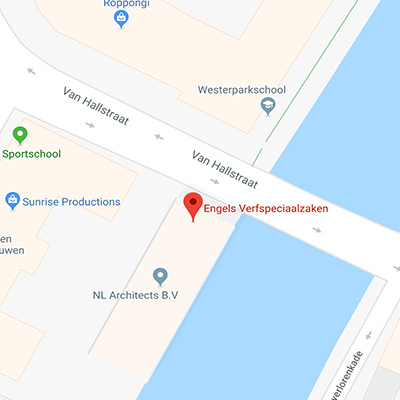 Engels verfspeciaalzaken West
Van Hallstraat 294
Monday to Friday: 08:00 - 17:00 uur
Saturday: 09:00 - 17:00
free on-site parking.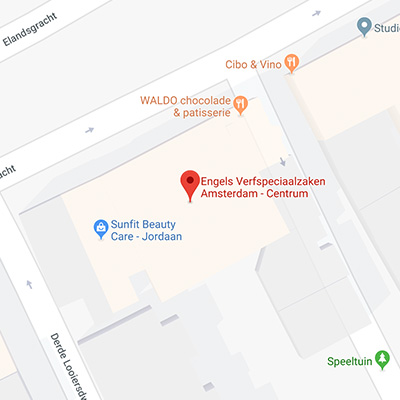 Engels verfspeciaalzaken Centrum
Elandsgracht 93-97
Monday to Friday: 09:00 - 18:00 uur
Saturday: 09:00 - 17:00
Paint and Ride (we pay your parking fee for the Q-park parking garage)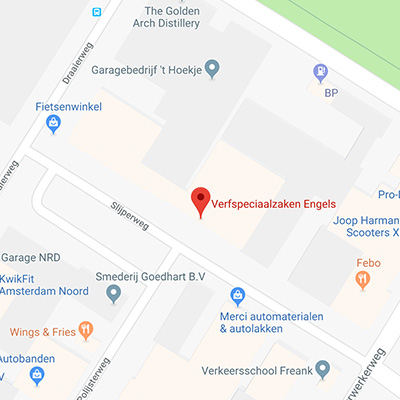 Engels verfspeciaalzaken Noord
Slijperweg 16
Monday to Friday: 08:00 - 18:00 uur
Saturday: 09:00 - 17:00
Free loading and unloading at the door. (Please pay 1.30 p/h per 1 July paid parking)