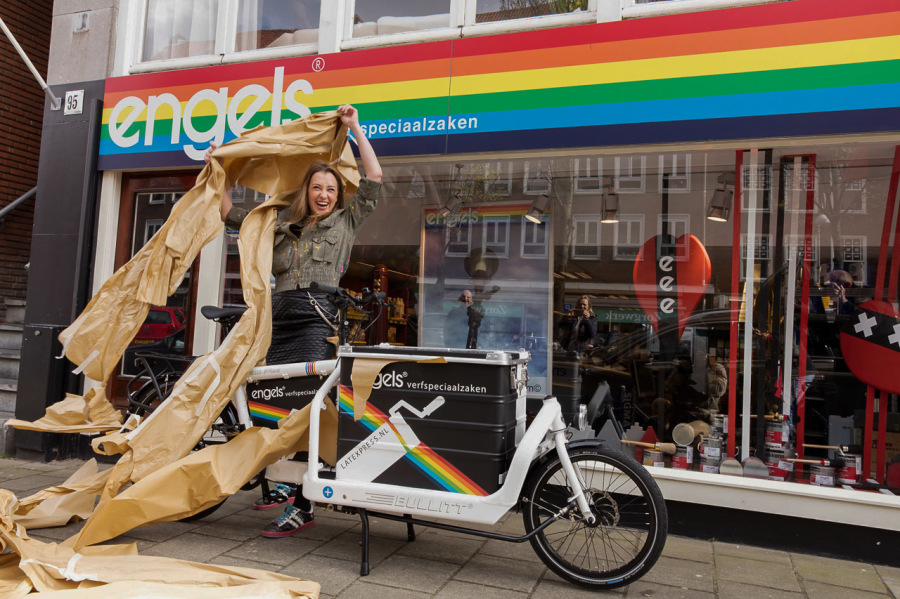 Lola Brood kicks off the Latexpress
No more buckets of latex on the bike.
Before you know it, you'll leave a whopper of a "signature" on the street.
To this end, Engels Paint has launched the environmentally friendly LATEXPRESS.nl. It will soon also become virtually impossible to park in front of our shop on Elandsgracht due to the re-profiling of this street, which is why Engels Paint Specialists will deliver your order to your home with a special transport bike. That may be within 30 minutes*, but in consultation with the planners of Fietskoeriers Amsterdam, you can plan the delivery for a more convenient time.
LATEXPRESS.nl
was unveiled by
LOLA BROOD
.
LOLA
designs her own clothing line that she paints in her own unique way. Engels Paint has developed a paint with LOLA BROOD that remains beautiful even with intensive use (i.e. washing). Visit
www.lolapopbrood.com
for more information.
Better for the environment
Amsterdam is the cycling capital of the world. All orders can be delivered inside the Amsterdam city ring within 30 minutes*, without delay due to traffic jams. Cycling is carbon neutral and therefore better for the quality of life in the city.
Fietskoeriers Amsterdam
This bike messenger specialises in rush deliveries and works according to the GPS principle. This means there is always a courier readily available in the area. In addition to experienced employees in logistics services, we are working on giving support to the long-term unemployed. Fietskoeriers Amsterdam contributes to the social development and reintegration opportunities of this group. For more information, visit www.fietskoeriers-amsterdam.nl
* The fine print
Orders with a value of €150 or more qualify for FREE home delivery within the Amsterdam city ring. For purchases of less than €150, we charge €7.50 per ride/delivery inside the Amsterdam city ring. Delivery within the greater Amsterdam area and beyond is available at the prevailing rate.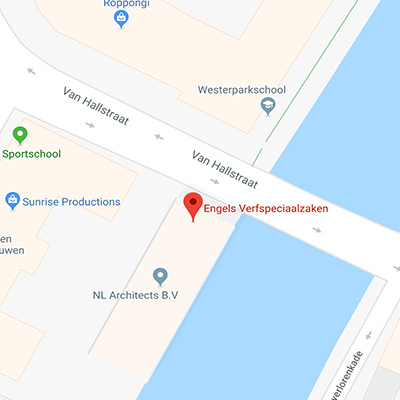 Engels verfspeciaalzaken West
Van Hallstraat 294
Monday to Friday: 08:00 - 17:00 uur
Saturday: 09:00 - 17:00
free on-site parking.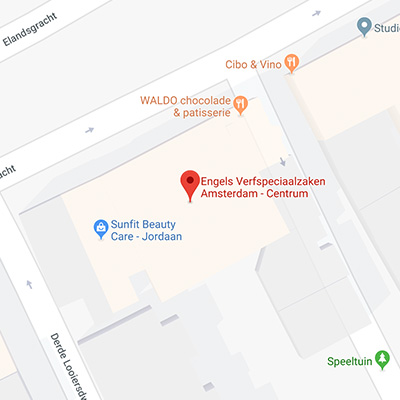 Engels verfspeciaalzaken Centrum
Elandsgracht 93-97
Monday to Friday: 09:00 - 18:00 uur
Saturday: 09:00 - 17:00
Paint and Ride (we pay your parking fee for the Q-park parking garage)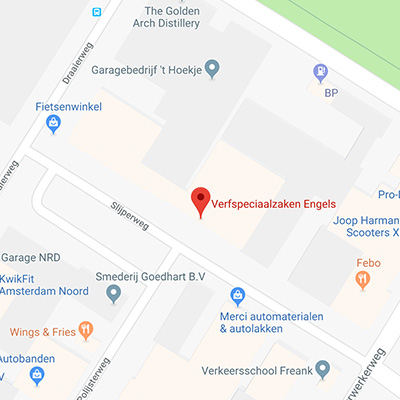 Engels verfspeciaalzaken Noord
Slijperweg 16
Monday to Friday: 08:00 - 18:00 uur
Saturday: 09:00 - 17:00
Free loading and unloading at the door. (Please pay 1.30 p/h per 1 July paid parking)